Imperial Corporate Capital PLC unveils plans for a luxury 5* golf resort on the outskirts of the historical town of Cambridge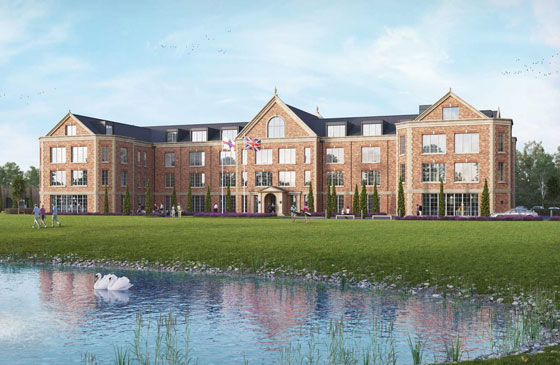 Imperial Corporate Capital PLC has an exciting new venture ahead, developing a 5* hotel and spa on the already impeccable grounds of Cambridge Meridian Golf Club. 
Set between the idyllic villages of Toft and Comberton and only 5 miles west of Cambridge City, Imperial Corporate Capital's proposed projection suggests that this boutique development could elevate Cambridge Meridian to becoming one of the UK's most prestigious golf resorts.
Like all projects in Imperial Corporate Capital's extensive portfolio, "the aim is to complete the scheme as efficiently and as eco-friendly as possible, avoiding any disruption to current members and the local community" (Fabeo Russell, CEO at Imperial Corporate Capital PLC).  With this in mind the design will endeavour to compliment the breath-taking beauty of the original course, with an overall vision to develop a 5* resort that enhances the already majestic surroundings of the English Countryside.
The benefits of such a project to an already affluent area remain clear and the Cambridge Independent has previously noted "that Cambridge has the fastest growing city economy in the UK" and Imperial Corporate Capital believes such a development will only enhance this continued growth by increasing employment opportunities and bringing an influx of tourists to the area.
Source: https://www.cambridgeindependent.co.uk/business/cambridge-economy-is-uk-s-fastest-growing-and-it-will-stay-top-in-2018-9051655/
With tourism in mind, the superb location of The Cambridge Meridian Hotel will provide those who are not so keen on golf, a base close to a multitude of local attractions including, Grantchester Village, Kings College Chapel and Wandlebury Country Park & Nature Reserve, to name just a few.  Therefore, once you return from exploring the historic streets of one of Britain's oldest university cities, The Cambridge Meridian Hotel will be ready to cater to your every need.
Overall, whether you are looking for a championship course designed by none other than Clive Clark, developer of some of the top courses worldwide, and Peter Alliss whose portfolio includes the iconic Belfry (which has played host to the Ryder Cup on numerous occasions).  Or alternatively, you simply want to escape the hustle and bustle of the city (the hotel being located only 90 minutes' drive outside of London), to enjoy one of the 60 bedroom suites the proposed design has to offer, relax in the opulent spa or experience world-class culinary delights in the hotel's restaurant, The Cambridge Meridian Resort is set to have it all.